Corporate sectors Customized Training on Solar PV Sector
India No 1. Solar Business School - Institute of Solar Technology
Proven training that's built to your company's needs
Summary Description: We specialize in customized training in these fields:
Solar PV Technology
Installer and Maintainance of PV plant
PV System simulation and Monitoring system software training
Custom Training linked to your goals
Training programs can be customized for your organization's specific needs, linked with industry certification or compliance requirements, or integrated with IST programs.
Other Learning Services
We provide a wide range of services that complement training development, delivery and evaluation, including:-
Training Needs Analysis
Job Analysis and Competency Profiling
Strategic Learning Planning
Instructional Design and Development
Prior Learning Assessment and Recognition
Evaluation of Training
Post-training Performance Support and Coaching
Facilitation
Keynote speakers
Safety Training in the workplace
Certificate will be Awarded by
Institute of Solar Technology, A Unit of Global Advanced Training & Educational Trust, Regd. under NCT New Delhi, Govt. of India
Eligibility
B.E / B.Tech, Diploma
Minimum Educational Qualifications: 10th + 2 Pass
Minimum age 18 years, No Upper Age bar
Medium:
English, Hindi & Local Language
(Book & Online Examination in English)
Become PV Solar Expert with Verified Skill Certification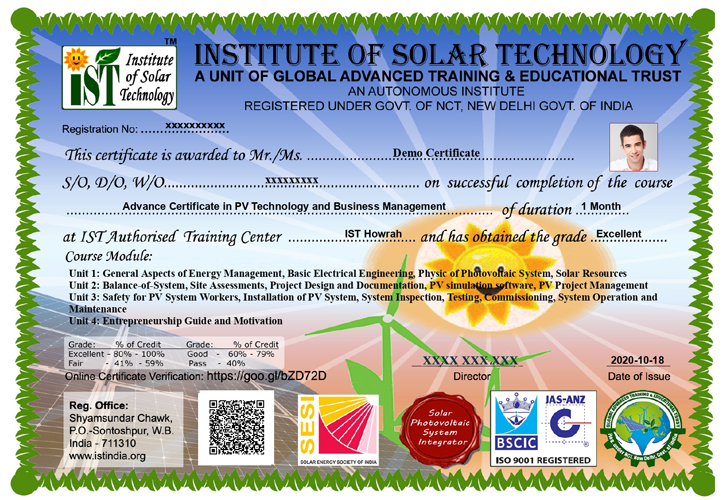 ---
Quick Inquiry Form
Add EV Products (Free Listing)
EVSEMart is an Electric Vehicle equipment directory that B2B and B2C companies can use. Customers can search for suppliers, distributors, manufacturers, vendors in Electric Vehicle industries. customers can quickly find what they want and get the sales process going.